Blog: In Bloom with Lucyann
FALL GARDENING TIPS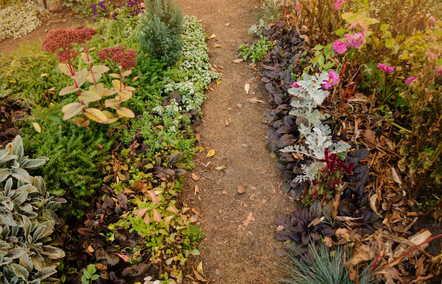 The best thing about everything you do in your garden in the fall is how happy it will make you in the spring. Time taken now to divide perennials and plant shrubs and trees are things that will seem magical when they leaf out and flower six months from now.

There is always a place or two to add spring bulbs. You can count on daffodils to return year after year. Tulips are not reliably perennial in St. Louis. Darwin hybrids are the most likely to bloom in subsequent years, although not with the abundance
of blossoms of the initial planting.

In St. Louis wait until November to begin planting bulbs and you can even plant in early December if the ground is not frozen. You do not want to risk soil temperatures being too warm and the bulbs thinking they need to sprout as soon as they are put in the ground.

Daffodil foliage is messy and hangs around long after flowers are gone. To have the bulbs come back and naturalize, you need to leave it around until it turns brown as it provides nourishment to the bulb. Think about planting daffodils where other perennials such as hostas or daylilies will sprout and hide the drooping leaves or plant your bulbs in the back of a bed where other plants will come up and leaf out to hide the mess. Hyacinths are lovely planted near paths and doorways where you can appreciate the lovely fragrance.

Don't forget to mark out the areas in which you have planted your bulbs with something such as inexpensive garden stakes, so you don't accidentally dig into them as you do other garden chores such as dividing hostas.

Pull out annuals and compost them or add to yard waste. If you have annuals and perennials planted together, this will prevent perennials from being smothered as the annuals deteriorate.

Cut back dead or deteriorating foliage of perennials such as peonies. If the foliage is heavy on late blooming perennials such as sedum and mums, consider leaving it on until late winter to protect the crown of the plant during the coldest months.

If you are dividing and moving perennials, take photos and keep a journal of where you have moved things. It is easy to forget in six months what you moved and where it went.

Add a layer of mulch over anything you have planted or cut back. Think of it as providing a cozy blanket to protect the plants you love over the winter.

Water. Keep watering, particularly newly planted trees, shrubs and perennials, until the ground freezes. September and early October have been dry. You want to deep water your landscaping to prevent all things green and growing from going to winter drought stressed.
LMC
By Lucyann Boston, an agent with Laura McCarthy Real Estate
Learn more about Lucyann https://bit.ly/LMC_Lucyann-Boston