Community Profiles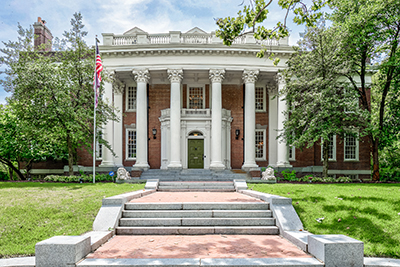 The city of St. Louis is framed on the north, west, and south by over 90 towns and municipalities. Our list of community profiles is selective rather than exhaustive. Featured are the areas where we are most active, in neighborhoods located in the central corridor that begins in mid-city and gradually fans out to the distant suburbs.
St. Louis To I-270
Some Notable City Neighborhoods
Lafayette Square, listed on the National Register of Historic Places and brimming with Victorian architecture, bordering a stately city park filled with huge old trees.
The Soulard District, home of one of the oldest open air markets in America, where red brick is found in row houses, sidewalks, and some streets and where Mardi Gras is celebrated with abandon.
The Shaw Neighborhood, a mixture of 1900 middle-class prosperity and two family flats, which is being revitalized by the energies and attention of nearby Missouri Botanical Gardens.
St. Louis Hills, a planned community of stylish, orderly brick homes that encompass lovely Francis Park.
The Central West End, an area of popular restaurants, galleries, and many grand townhomes. With an air of sophisticated, understated, and sometimes worn elegance.
The developing Lofts, on and around Washington Avenue in downtown St. Louis, featuring lofts in every stage of construction, some with spectacular lobbies, some with wonderful views, all within moments of professional sports venues.
The Suburbs
Once a small town of picturesque frame homes, Clayton today claims elegant and exclusive subdivisions, booming condominium developments, law offices, financial services, praiseworthy public schools, apartments, and gracious, tree-lined neighborhoods. Its borders touch the city of St. Louis, Washington University, University City, Ladue, and Richmond Heights. It is the bustling County seat and the host of a series of outstanding cultural events highlighted by the annual Art Show.
University City is noted for its cultural diversity, liberal outlook, and international flair. Over the years, it has been home for an extraordinary number of scholars, musicians, poets, and writers of national and international acclaim. Block after block of traditionally styled brick homes are the norm, but apartments and condominiums are numerous as well. Convenient to the Clayton business district, Washington University, Forest Park, and the Central West End, the city offers its own unique shops and restaurants found in The Loop (a popular downtown area).
Recognized for stately homes and spacious lots (much of the residential area is zoned for a minimum 3 acres) Ladue and Huntleigh are generally considered the most prestigious suburban communities in the metropolitan area. They offer outstanding services and country manor elegance. Top-rated private schools and exclusive Country Clubs are just moments away.
Frontenac first and then Town & Country extend much of the prestige and grace of Ladue/Huntleigh to the west. The original Town & Country founders began in 1950 to plan for an exclusive, wholly residential community. Comprehensive zoning has been maintained since to ensure such an atmosphere. Its quality of life is further enhanced by the presence of sprawling Queeny Park, complete with opportunities for swimming, skating, hiking, riding, and cross country skiing.
Whether asked how long it takes to drive to the airport or Busch stadium, Grant's Farm or Babler Park, most St. Louisans will estimate a drive of 15 to 20 minutes. That applied perhaps 20 years ago, before developments mushroomed as far away as the Missouri River and beyond. But the 15 minute quote still holds true for those who live in Brentwood or Richmond Heights. Adjacent to Highway 40/I-64 and the Innerbelt/I-170, these older, well-established communities offer convenient location with a comfortable small town atmosphere. Residents have ready access to an enormous concentration of quality retail shopping.
Most who drive from Webster Groves through Glendale into Kirkwood would consider the neighborhoods consistently pleasant, attractive, and seamless, but local pride runs deep, and the citizens view each town as separate and distinct. Originally a community of summer homes for St. Louisans seeking the health and quiet of country living, Webster Groves incorporated in 1896 and began its own traditions of friendliness, civic-mindedness, and handshake commerce. Its handsome frame homes interspersed with a multitude of churches remind many of New England. Watching the annual 4th of July parade, the focus of Community Days, is like viewing a portfolio of Norman Rockwell. Webster Groves is home of Webster University, the acclaimed Opera Theatre of St. Louis and the Reperatory Theatre.
Glendale is a small, attractive community of mid-size, appealing homes that vary from one another in style, construction, and finish. They remain in high demand--regardless of time of year or market conditions. Relying on nearby towns for public schools and major shopping, Glendale is truly a bedroom community that celebrates its peace and quiet. It is adjacent to both Algonquin and Westborough Country Club.
Kirkwood was founded as the area's first commuter town in 1850 when the Pacific Railroad joined forces with a real estate developer to create mutually beneficial opportunities. Today, Kirkwood is one of the most comfortable family communities in the metropolitan area. Gracious homes set among the trees and a can-do attitude are hallmarks of this town that is always reinventing some part of itself. It takes particular pride in its good schools, city services, and retail shopping.
Warson Woods has two parts. The first is the older section of charming, beautifully maintained homes, many Cape Cods and Colonials, that line hilly, tree-shaded streets. Larger ranch homes make up the "newer," more level western part. Sought after, prosperous, and convenient, Warson Woods borders Ladue, Kirkwood, Rock Hill and Glendale.
Des Peres, French for "the fathers," is a well planned residential community that features many larger traditional homes on generous lots. Because of its central location and easy access to virtually all major highways, it offers convenient commuting to most of the metro area. It includes office complexes and the totally redeveloped and expanded Westfield Shoppingtown Center featuring all new Nordstrom's department store.
When westward development reached quiet Creve Coeur in the late 50s and early 60s, this quiet hamlet knew exactly what to do. It embraced change and welcomed home builders and developers of office buildings and medical facilities. Mercy Hospital, DeSmet Jesuit High, Whitfield School, churches, synagogues, and shopping centers appeared. Today, progressive Creve Coeur is still recognized for its foresight and openness for new ideas.
Beyond I-270
As bulldozers began clearing and grading tracts of ground further west for the great housing boom of the 1960s, the political landscape was changing as well. Homebuilders were building subdivisions rather than towns, and subdivisions seemed to appear overnight. People began referring to the area just west of what is now I-270 as "Parkway," the name of the school district that was building schools as fast as possible to keep up with the surging population. The names and opening dates of Parkway District high schools indicate how the area developed:
Central High School (1958), West (1968), North (1972), South (1976). Of these, the highest average cost of (resale) homes today is in the Parkway West area. Multiple subdivisions in each high school area assure a surprising range of prices and amenities. Prices may vary from $125,000 to $1.5 million. The Parkway District has developed a reputation for high standards, and several of its schools have received national recognition for their academic excellence.
Meeting the Parkway District's western boundary (generally just beyond Highway 141) is the Rockwood District, which basically covers the remainder of St. Louis County. Rockwood runs north to St. Charles County, west to Franklin County and south to Jefferson County. Much of this large area is rugged, beautiful terrain with limestone outcroppings and woods of hickory,oak, and native dogwood, just as it name implies--rock and wood. This is the geological edge of the Ozarks where sightings of deer and wild turkey are commonplace. It is also the focal point of extravagant new home construction. Again, the district's new high schools indicate the pace of growth: Lafayette (1988), Marquette (1993), Summit Rockwood (1993).
Within the Parkway and Rockwood Districts are several notable and widely recognized towns. Although they've all incorporated since 1950, their historic origins go back as far as the early 1800s when they were homesites of notable families, small settlements created by business ventures, or simply the first post office locations.
Serious growth for both Ballwin (pop. 29,000) and Manchester (19,000) happened in the 1960s as subdivisions quickly overspread their locations. Today these active communities provide an array of recreational opportunities for their citizens in the form of parks, golf courses, and baseball complexes. Pointe of Ballwin Commons offers its citizens banquet rooms, gymnasiums, indoor and outdoor pools, a fitness center, and an indoor track.
Recognized as "Chesterfield" long before its incorporation, the area's natural beauty and its proximity to a major highway attracted significant housing, commercial development, and a regional shopping mall that made it the affluent mecca of multitudes. With a population in excess of 42,000, the city is one of the strongest voices in St. Louis County.
Wildwood, the newest city to incorporate (1995) is in the far southwest corner of St. Louis County and its specific mission is to preserve as much of its natural beauty as possible by limiting growth. Relying on absolute zoning restrictions, this community intends to enjoy its vistas of farmland, rolling hills, deep woods, and meandering streams in perpetuity. This idyllic setting as already attracted over 16,000 citizens.
Beyond St. Louis County
St. Charles County deserves mention, for it is one of the fastest growing counties in America. Located north of Chesterfield and across the Missouri River, its namesake city of St. Charles (pop. 60,000) was founded in 1765. Host of the Lewis and Clark Expedition in 1804 and Missouri's first capitol (1821), the city has preserved much of its turn-of-the-centuries charm. But the recent explosive growth of sister cities St. Peters (pop. 57,000) and O'Fallon (pop. 46,500) has been staggering. Add prestigious Winghaven, a planned golf community in a country village setting with 400,000 feet of retail and commercial space (including the all-new MasterCard headquarters). Much is happening.