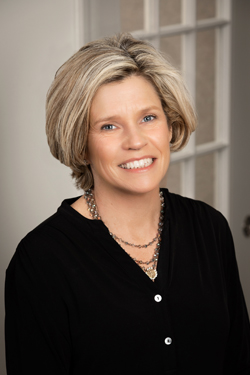 Personal
Graduated with a degree in Communications from Spring Hill College
Married with 6 darling children
Lifelong St. Louisan
Member of Mary Queen of Peace parish
Active volunteer at parish and other community events
Worked with fundraising for Cystic Fibrosis Foundation
Characteristics and Qualifications
Hardworking and committed to getting the job done right and efficiently
Knowing local market and trends to be sure the client has the best information
Good listener for my clients to realize what they want and how to get the "perfect" house
Good communicator; available to clients through telephone, email and fax
Loyal
My Goals
I want to be honest and genuine with everyone I come into contact with on a daily basis.
I want to deliver the best possible experience for my clients, beginning with the initial meeting through closing.
I want to make my client relationships last a life time with repeat clients.
What My Clients Say:
Ellen was diligent in her research, proactive in presenting all the options, and unrelenting in her knowledge of the inventory that was listed but also of those that weren't even on the market yet. Ellen worked hard to not just sell us a house but to make sure our family was happy. I would recommend her to anyone searching or selling! Margi D.


Thank you, Ellen! We can't even begin to tell you how wonderful you made this experience for us! We are so in love with our new home, and all of your guidance with selling our Nottingham house made it such a stress-free process. We are forever grateful! Andy and Megan L.


Ellen was fantastic to work with in the sale of my condominium. Ellen listened to my needs and wants in selling my condo and sold it within the first week for a great price. She was a full time agent for me and I cannot thank her enough!! I would highly recommend her to anyone for their next home sale. Tim L.


I wanted to drop a short note expressing my appreciation for the excellent work that Laura McCarthy's Ellen Dolan did in representing both myself and my son Brian in his first home purchase endeavor this past summer. Ellen led our search after we both had spent many months trying to find a house that would meet the specific requirements that Brian wanted. From the moment we signed on with Ellen, our house hunting experience turned into a very pleasant and stress-free experience because of Ellen's knowledge of the market and her customer service approach that she brought to our search effort. Ellen possesses a rare combination of a hard working work ethic, a super friendly personality and great communications skills that transformed what could have been a frustrating and daunting search effort into a very pleasant and positive experience. Needless to say, Ellen was able to locate the perfect "house" that has turned out to be the perfect "home" for Brian. So, whether you are a first-time home buyer, as Brian was, or an experienced buyer, I would highly recommend Ellen Dolan for your next home buying experience. Jim P.


Working with Ellen Dolan to buy my home exceeded all of my expectations. Ellen's knowledge of the St. Louis market and her expertise were invaluable. She was patient, responsive and maintained an open line of communication throughout the entire process. I wanted to see several houses to make sure I'd explored all options before making a decision and Ellen was flexible and always accommodating, often times with short notice. Ellen walked me through the entire process step by step starting with asking me questions to help her understand what was most important to me in a home and even introducing me to a great lender. I will use Ellen for my next home and would recommend her to my friends and family without hesitation. Ellen was a pleasure to work with! Dan J.