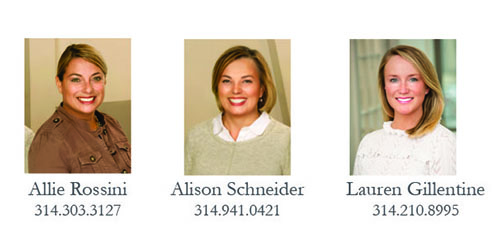 Visit Our Website here
Who We Are
As a top producing group with Laura McCarthy, Allie, Alison, and Lauren rely predominately on referrals from satisfied past clients, friends and family. They pride themselves on being accessible, professional, trustworthy, and dependable. In addition, they value kindness, integrity and humor - both personally and professionally - and promise to keep their clients' needs at the top of their priorities, comfortably guiding them through the process of buying and selling while delivering exceptional customer service from start to finish. With a combined 26+ years of experience and over $225 million dollars worth of sold properties, Rossini Real Estate Group goes beyond the usual expectations!
What Clients Say About Allie & Alison
Experienced, confident, personable, and hard working are a couple of words that describe Allie and Alison. This dynamic duo represented us on the selling side of our house. They analyzed the market trends and advised us to put our house on the market in mid January. With confidence, they then advised us to update a couple home items, and they helped stage our house. Finally, they hired a photographer who took beautiful pictures of our house. This whole package worked. We had two contracts on our house the first day it went live. If you are looking for realtors who are easy to work with and experts in their field, we highly recommend Allie and Alison. - Emily
We had the pleasure to work with Allie and Alison for the purchase of our home in Clayton. They were responsive, attentive, and patiently answered all of our questions. Their knowledge of the market is unsurpassed. They tended to every detail of the purchase and kept us informed along the way. We highly recommend these two professional agents to anyone buying or selling!
We would recommend Allie and Allison in a heartbeat! They are incredibly responsive, knowledgeable and detailed - exactly what we wanted in our real estate agents. They made what can be an excruciating process enjoyable because they are so easy to work with and know the St. Louis market so well. They helped us find our dream home in our target neighborhood and with their assistance, we were able to buy it before it hit the market. We also received five contracts the first day of showings for our home and sold it for thousands over asking price. We honestly can't believe how perfectly everything worked out and we know so much of that is because of the amazing service we received from Allie and Alison. Justin and Kristen - Ladue
Allie Rossini and her partner Alison Schneider were a great team. They were always available to quickly respond to any questions we had. They were well-informed about the market we were looking in. They set up appointments on short notice and at times convenient to us. They also provided valuable recommendations for contractors, inspectors, etc. They took the time to explain the procedures in the offer and acceptance process to us and provided valuable advice. They helped us find a house that was what we were looking for and did not pressure us to consider houses that did not meet our needs. When we looked at houses they walked through with us and provided helpful observations.
Erica - University City
We could not be more pleased with the job Allie and Allison did as our real estate agents. It was our first time selling a home and they guided us through the process with great care. They were extremely knowledgeable, prompt, and professional and got us results that far exceeded our expectations! We would not hesitate to highly recommend them to anyone looking for an agent. Rob - Clayton.
I loved every single part of my experience working with Allie as she was helping me and my family buy our home. She went above and beyond. Allie worked tirelessly to find a house that was perfect for us. Even though she had 3 young boys at home, she was always available for us even at a minute's notice. She was so responsive and most importantly, she was so honest in her assessments and did not make us feel rushed one bit throughout our search. Her knowledge is unsurpassable and there was no house we wanted to see without Allie in tow as we valued her option and expertise so much.
Alison was quick to understand our vision for our "forever" home. She provided an outstanding level of service from the sale of our previous home to the very focused search process through all the details of closing on both homes. She helped us feel great about our decision and we cannot recommend her more highly! Betsy - Clayton
I truly cannot say enough about Allie. I am SO thrilled we found such a perfect home but honestly, I have missed my weekly (and sometimes daily!) communications with Allie that were commonplace during our search. She is just one of those people with contagious energy and you fall in love with her immediately. I would recommend Allie time and time again. There are not enough great things that I can say about Allie. C. Berry - Clayton
Allie has been a pleasure to work with. She supported us for several years in trying to find a home that met our very particular taste. Because we were moving within the same community we could afford to take our time and Allie hung in there with us throughout the multi-year journey. We ultimately found a unique home that met all of our requirements and with Allie's help we secured the purchase within a day of its coming on the market.
C. Goldman - Des Peres
We had such an easy time working with Allie. She walked us through every little detail of the process of selling our home, and was always forthright, available, and helpful. We knew were in good hands with her, and have already recommended her with confidence to friends and colleagues. A. Feder - University City
We purchased our first house through Allie. Allie was wonderful at explaining the entire process and was very truthful in what she told us. She kept us abreast of current market conditions and was very patient with our many questions. We were not exactly sure our price range and location that we wanted and we were also quite picky, so it took us probably 2 years to find the right house. Allie was very patient as we went back and forth and gave us sage advice. I cannot even count the number of homes that we saw but Allie always made time to show us anything we sent her and if she was not available, she sent one of her associates. We also felt that Allie really understood the construction of homes and could easily tell if things such as plumbing, wiring, tuck pointing, etc needed work. We felt she also really understood current market conditions and resale values. When we finally did put an offer on a house, Allie walked us through the whole process and answered many of our questions. We felt that she had our best interest at heart and was looking out for us. We loved working with Allie and will definitely continue to do so in the future! Thanks as always Allie! - E. Moore - Brentwood